Combining a desirable location with cutting-edge technology, USCAP's Linder Learning Center and Powers-Sanchez Interactive Center are revolutionizing the way we learn and communicate.
In addition to our naming donors – Dr. Celeste N. Powers, Dr. Miguel Sanchez, and Dr. James and Karen Linder, the following donors have made contributions of $1,500 or more to the construction of USCAP's Interactive Learning Center.
Interactive Center: 
Two laboratories, each with an 18-head microscope, high-definition camera, viewing microscopes
Ultrasound equipment for interventional cytology
Learning Center:
A broadcast television studio and digital program development for mentoring, advanced education, and global outreach (targeted primarily to low resource countries)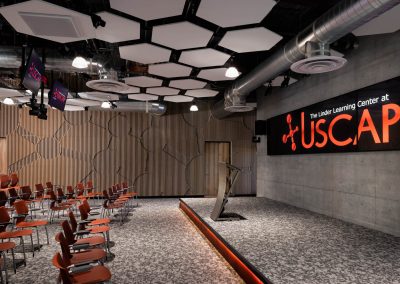 20 INCH CUBE SPONSORS (Donations of $2500 or more)
David B. Kaminsky, MD, FIAC
Linda Ferrell in Memory of Sir RNM Mac Sween
Paul M. Lewin
John P. Monahan
Steven & Elizabeth Billings
Martha Bishop Pitman, MD
Sylvia L. Asa, MD, PhD
In Memory of Rachel and Leo Damski
Sharon Weiss, MD
Ethan Kaminsky
Mrs. Tina M. Fuller & Gregory N. Fuller, MD, PhD
Alexander & Victoria Lazar
Britt-Marie Ljung, MD, FIAC
Anonymous Donor – in Honor of Dr. Robert E. Scully
16 INCH CUBE SPONSORS (Donations of $2000 or more)
Julia A. Bridge, MD
Lester D. R. Thompson, MD
David Grignon, MD
Anonymous Donor – In Memory of Dr. Rodger C. Haggitt
Dr. David B. Kaminsky in Honor of Laura W. Lamps, MD
Anonymous Donor – In Honor of Dr. George F. Gray, Jr.
Henry D. Tazelaar, MD
In Memory of Richard E. Billings
Christopher P. Crum, MD
Pallavi A. Patil MD in honor of Dolores and Ronald A. DeLellis MD
Pallavi A. Patil MD in honor of Asmita and John R. Goldblum MD
Pallavi A. Patil, MD in memory of Ashok B. Patil and Bhaurao S. Patil
12 INCH CUBE SPONSORS (Donations of $1500 or more)
Christopher D. M. Fletcher, MD
Marc Ladanyi & Maureen F. Zakowsky
Dr. Martin & Marilyn Lipschultz
Sandy & Gene Siegal, MD
Glenn & Catherine Ketcham
Jonathan Epstein, MD
Wendy L. Frankel, MD
Marwan Antoine Yared, MD
CONTACT US
USCAP Foundation
201 N Palm Canyon Drive
Suite 301
Palm Springs, CA 92262
P: 760.327.6777
F: 760.327.6477
USCAP Foundation needs your voice,
your support, and your leadership.